If you want to reduce the lines on your face without having to resort to surgical procedures, the good news is that facial rejuvenation techniques can soften wrinkles for a more youthful appearance. The benefit of having this treatment done by dentists is that they have a thorough knowledge and understanding of the facial anatomy and can perform this delicate work in a precise and safe manner. Our practice uses the botulinum toxin type A for this treatment, an injectable aesthetic solution. Here is how it works:​
Once injected into the skin the botulinum toxin relaxes the tiny facial muscles, which cause expression lines, by blocking the nerve impulses in them, leaving the skin looking smoother.
Areas on the face that can be treated include frown lines (vertical lines which form between the eyebrows), eyebrows, crow's feet, forehead lines and lines around the mouth and top lip, known as 'smoker's lines'.
The injection is quick and painless, usually lasting around 5-10 minutes and requiring no anaesthetic. Results might start to show in 24 hours but maximum results will take 2 weeks.
As this is not a permanent treatment, the effects will wear off over time. It is therefore possible for the procedure to be repeated every 3 months for effective results.
Life Benefits
Reduced facial lines for more youthful appearance.
Non-surgical and painless procedure.
Prevention of future wrinkles
Sheylla is trained to provide advanced Botox treatment including hyperhidrosis (reduce sweating on the armpits) and to reduce bruxism (teeth grinding). She usually uses Azzalure.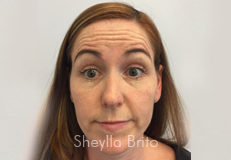 Before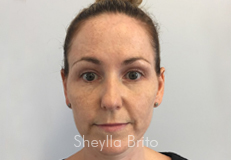 After